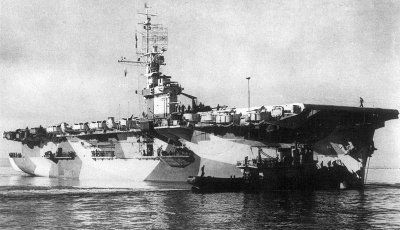 Click on image for more detailed view.
The USS White Plains CVE 66 (named for the battle, not the city) was an escort aircraft carrier of the Casablanca Class. Built by Kaiser-Vancouver, she was laid down February 11, 1943 and commissioned only nine months later on November 15th. Like most other escort carrier, she was a converted merchant vessel originally designed to provide aircraft cover for merchant convoys. She carried 45 officers, 620 men, and approx. 25 aircraft. The USS White Plains' greatest moment in combat came on October 25, 1944, when, as part of Task Unit 77.4.3, during the Battle of Samar, Philippines, she and other ships of the United State Navy, against great odds, engaged and retired the Central Japanese Force including destroyers, cruisers and battleships, which were headed toward the main American body at Leyte Gulf. Decommissioned in 1946, she remained in reserve until sold for scrap in 1958.
The three photos below from the USS White Plains, dating 1943-1944, are a gift from the Kitsap County Historical Society Museum, Bremerton, Washington. Special thanks to their Volunteer Research Coordinator, Bonnie Chrey, for thinking of the people of White Plains.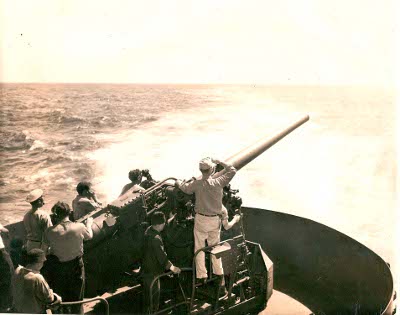 Click on image for more detailed view.
Gunnery Practice on the USS White Plains (CVE 66), January 25, 1944. A note on the back of the matting states:

5" 38 CAL. GUN ON STERN OF U.S.S. WHITE PLAINS – SUNK 1 JAPANESE CRUISER AND DAMAGED ANOTHER IN THE BATTLE OF LEYTE GULF OCT 1944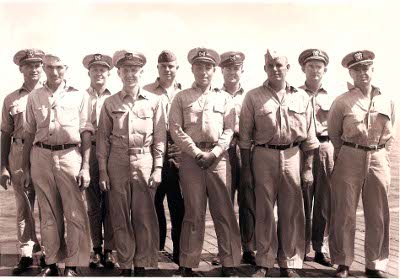 Click on image for more detailed view.
Warrant Officers on the deck of the USS White Plains (CVE 66), 1943. Front Row: Meske- Bosin; Story- Electrician; De Franco- Machinist; Young- Carpenter; Risley- Chief Pay Clerk. Back Row: Brisson- Chief Gunner; Riggs- Ship's Clerk; Echant- Radio Electrician; Sample- Machinist; West- Chief Pharmacist's Mate.